Laser Hair Removal for Absolutely Everyone, with Results Guaranteed!
Front and back of the neck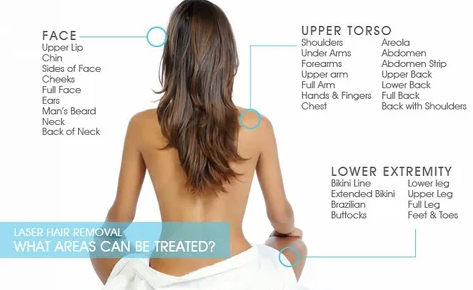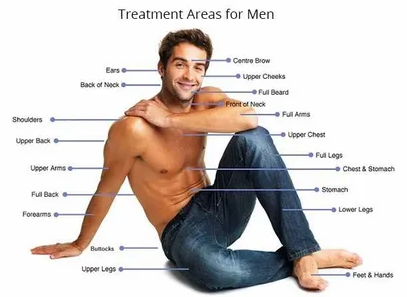 Before and After Treatment
Laser Hair Removal
(small area)
Laser Hair Removal (Small Area) – 30 min | Price Varies
We can successfully remove hair all over the body with our Laser Hair Removal system. The most popular areas are Upper Lip, Chin, Neck Hair, Face & Sideburns Hair, Regular & Brazilian Bikini, Underarm Hair and Arm & Leg Hair. 
Laser Hair Removal
(Full Body)
Laser Hair Removal Full Body – 1 Hour | Price Varies
Unwanted hair is a common problem and many of us wish that we did not have to shave, wax, use depilatory creams, or resort to any other temporary hair removal methods ever again. Come in for a full-body treatment and enjoy a clean hair-free body.
Microdermabrasion – 30 min | Price Varies
Microdermabrasion uses mechanical exfoliation to improve the texture, tone, and health of the skin. As a rejuvenation treatment for the face, microdermabrasion effectively reduces surface blemishes while also stimulating collagen growth in the skin. elf.  This method of hair removal is the only proven cure for ingrown hair and razor bumps.
Laser Hair Removal
(FOR MEN)
Laser Hair Removal For men – Price Varies 
One of the fastest-growing aesthetic procedures today is laser hair removal for men. Men in general, have more hair in more places than women, and shaving in all these areas can be quite difficult. Laser hair removal for men also dramatically reduces the hair from further growth.
Appointments Available!
Relax and Renew
Open Hours
(By appointment only)
Monday - Thursday: 10am – 6:30pm
Friday: 10am – 5pm
Saturdays: 10:30am - 2:30pm
Sundays & Holidays: Closed
Address
Suite 120 - 925 West Royal Lane
Irving, Texas 75039, USA
Cancellations
We require 24 hours notice! A fee of $25 will be charged for late cancellations.